LCS-300©
Loran C Signal Generator
---
[ Home] [ Depth Sounder Test Set ] [ Chirp Depth Sounder Test Set] [ Computer Controlled Depth Sounder Test Set]
[ Low Frequency Universal Transducer Test Set] [ Universal Transducer Test Set] [ Multi Sensor Transducer Test Set ]
[ Computer Controlled Transducer Test Set ] [ Loran-C Signal Generator ] [ Downloads]
---
The LCS-300 is a LORAN C signal generator capable of simulating a LORAN chain with a master and two slave stations. The signal characteristics are controlled from any ASCII terminal via the RS-232 link. The GRI, slave TD's, and amplitude of the pulse groups can be set. These settings can be stored in eeprom to be recalled on power-up.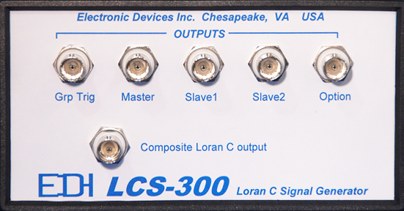 ---
Outputs:
Grp Trig: Provides trigger pulse at beginning of master pulse when loran C chain is transmitted.
Master: Outputs only the master pulse. Amplitude is fixed at 2V p-p at pulse maximum.
Slave1: Outputs only Slave 1, fixed amplitude of 2v p-p.
Slave2: Outputs only slave 2, fixed amplitude of 2V p-p.
Option: Output for upgrades. Not used at this time.
Composite Loran output: Connects to Loran receiver. Master, slave1, and slave2 are present at this connector, and the levels can be individually set over an 86 dB range or 50uV to 1V p-p.
Trig Out: Software selectable trigger for master, slave1, or slave2 group.
All outputs except for the Group Trig and Trig Out are 600 ohms and can tolerate DC voltages of +/-20V. The Group Trig and Trig Out output is 0-5Vwith 1K impedance. Voltage must not be applied to these outputs or damage may occur.
Controllable parameters:
The GRI, Slave time difference (TD), and master , slave1, and slave2 amplitudes can be set. ECD can be set, but applies to master and slaves equally.
GRI range: 33mS to 500mS.
GRI resolution: 100uS.
Slave1 range limits: 11000uS minimum to GRI - 11000uS maximum .
Slave2 range limits: Slave1 TD + 11000 uS minimum to GRI - 11000uS maximum.
Slave resolution: 100nS.
Master and slave amplitudes: Amplitude for master, slave1, and slave2 can be individually set from 50uV to 1V p-p in 0.3dB steps.
ECD range: +10 to -10 uS in 1 uS steps.
Serial port: Standard 9-pin serial cable. An RS232 opto-isolator option is available.
Baud rate: 9600, 8 bits, no handshake, 1 stop bit.
Internal EEPROM stores operating parameters and restores these settings when power is applied.
LCS-300 Manual
---
Please E-Mail edisales@bbginc.com or telephone (757) 366-9211 (within the USA) for more information on EDI's product design services.
Click here to email your questions or comments to EDI.
---
[ Home ] [ Depth Sounder Test Set ] [ Options for Depth Sounder Test Set ] [ Depth Sounder Test Set ]
[ Multi-Sensor Transducer Test Set ]
[ Downloads ]
---
Electronic Devices, Inc.

---

1708 South Park Court, Chesapeake, VA 23320. Phone (757) 366-9211
---
Copyright 1998-2017, BBG, Inc.
1708 South Park Court
Chesapeake, Virginia 23320
(757) 366-9211 USA