CTT-2©
Computer Controlled Transducer Test Set
---
[ Home] [ Depth Sounder Test Set ] [ Chirp Depth Sounder Test Set] [ Computer Controlled Depth Sounder Test Set]
[ Low Frequency Universal Transducer Test Set] [ Universal Transducer Test Set] [ Multi Sensor Transducer Test Set ]
[ Computer Controlled Transducer Test Set ] [ Loran-C Signal Generator ] [ Downloads]
---
The CTT-2 is a computer controlled transducer test set designed for production line testing of sonar transducers during manufacture. Swept frequency tests are quickly performed. The data returned can be impedance and relative phase for each point in the sweep, or just the minimum and maximum impedance points found over the swept frequency range. Leakage tests can also be made over a range of 100 ohms to over 10 megohms.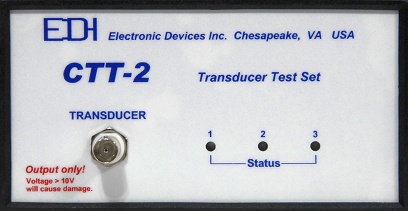 ---
Outputs:
Frequency range:

10KHz to 1 MHzFrequency resolution: 1Hz

Frequency accuracy: .

01% over -10 to +70 degrees C.

Impedance range:

10 to 5000 ohms (to 9900 ohms with decreased accuracy).

Impedance accuracy:

5% of reading for resonant (resistive) load.

Test modes:

Swept and fixed frequency

Test voltage level:

5 Vpp

Data returned:

Impedance, +/- phase, and leakage resistance.

Indicators:

Three panel LED's controlled by test program.

Size:

3 x 7 x 7 inches

Power:

External wall-plug transformer nominal 12Vdc@ 300 mA.

Interface:

RS-232, 9600 to 38400 Baud, standard DB9 serial port.
CTT-2 Manual
---
Please E-Mail edisales@bbginc.com or telephone (757) 366-9211 (within the USA) for more information on EDI's product design services.
Click here to email your questions or comments to EDI.
---
[ Home ] [ Depth Sounder Test Set ] [ Options for Depth Sounder Test Set ] [ Depth Sounder Test Set ]
[ Multi-Sensor Transducer Test Set ]
[ Downloads ]
---
Electronic Devices, Inc.

---

1708 South Park Court, Chesapeake, VA 23320. Phone (757) 366-9211
---
Copyright 1998-2017, BBG, Inc.
1708 South Park Court
Chesapeake, Virginia 23320
(757) 366-9211 USA