---
[ Home] [ Depth Sounder Test Set ] [ Chirp Depth Sounder Test Set] [ Computer Controlled Depth Sounder Test Set]
[ Low Frequency Universal Transducer Test Set] [ Universal Transducer Test Set] [ Multi Sensor Transducer Test Set ]
[ Computer Controlled Transducer Test Set ] [ Loran-C Signal Generator ] [ Downloads]
---
The BAL-1066 is a high power balanced to unbalanced line transformer designed for operation down to 10 kHz. It also provides galvanic isolation between input and output. This balun is used to connect depth sounders to the DSTS-4A , DSTS-5A, and DSTS-5A/2C Chirp depth sounder test sets.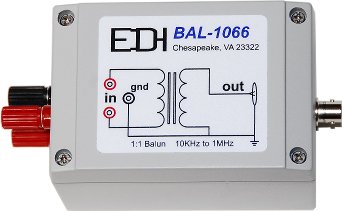 ---
Frequency range: 10 KHz to 500KHz, usable to 1 MHz.
Losses: <0.2dB to 500KHz, 0.5 dB 500KHz to 1 MHz
Nominal inductance: 20 mHy
Maximum voltage: 2500 V p-p at 50 Khz, derate to 750Vp-p at 10 KHz.
Maximum pulse power: 2400 watts at 1% duty cycle.
Size: 6 x 3.5 x 3.5 inches (15.2 x 8.9 x8.9 cm)
Weight: 3.75 Lbs. (1.7Kg)

BAL-1066 Datasheet
---
Please E-Mail edisales@bbginc.com or telephone (757) 366-9211 (within the USA) for more information on EDI's product design services.
Click here to email your questions or comments to EDI.
---
[ Home ] [ Depth Sounder Test Set ] [ Options for Depth Sounder Test Set ] [ Depth Sounder Test Set ]
[ Multi-Sensor Transducer Test Set ]
[ Downloads ]
---
Electronic Devices, Inc.

---

1708 South Park Court, Chesapeake, VA 23320. Phone (757) 366-9211
---
Copyright 1998-2017, BBG, Inc.
1708 South Park Court
Chesapeake, Virginia 23320
(757) 366-9211 USA